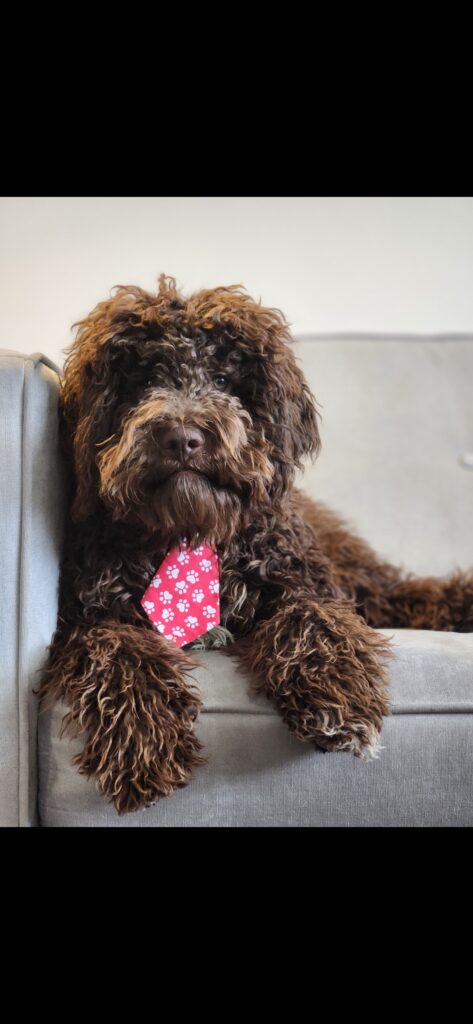 My name is Enzo! I'm a 6 month old Lagatto Romagnolo. I am a truffle-hunting, hypoallergenic dog, that comes from Italy. Do you know what else I have? The cutest little underbite. I love showing off my pearly white smile and do it all the time! I'm 100% purebred and have a coat that doesn't shed. The only time I even lose any hair, in general, is when mom cuts it.
Enzo works with his owner/therapist Malory Christensen LMFT. You can schedule a session with them both and enjoy the calming presence of this cuddly friend during your next therapy session.
What Part Does Enzo Play in Therapy?
Enzo's job in therapy is to simply be present. He may take a nap in the corner or by your feet. Enzo loves to be a pet and will gladly accept your affection. Enzo will greet you warmly and accept you as you are. He won't judge your looks, your flaws, your socioeconomic status, or your messy emotions. Unconditional positive regard is a hallmark of a good therapist and you can expect that from Enzo.
When children and adolescents know that they get to "play" with Enzo in the session, they are much more motivated to attend. By having Enzo in the sessions, a calm space is created and clients know they can let their guard down and feel comfortable, in a non-judgmental space. Enzo is a very calm dog and makes every single person feel welcome. He is often able to identify a client's emotional state and give them what they need at that moment. There are many benefits to adding a therapy dog to your next session. If having a dog in your next therapy session sounds interesting to you give us a call.
Location
Enzo currently sees clients in our Draper location with an option to see him virtually. Book an appointment with Malory Christensen, LMFT, and Enzo at Unified Family Therapy today.
or click here to learn more about the other members of our team. Finding the right therapist is important. If you aren't sure which therapist to choose, call our front desk and we can help you find the right fit.